For our team here at CVD-Mali, World Immunization Week is always a notable event on the calendar.
As the Center for Vaccine Development in Mali, our core work has always revolved around the development, trial and implementation of safe and effective vaccines, in Mali primarily but also in the wider West African region.
This year's World Immunization Week takes place in a more charged context than usual. The whole world, it seems, is talking about vaccines and vaccination.
Unprecedented achievement
In a recent blogpost, we discussed the many challenges associated with the brand new Covid-19 vaccines that have become available, in record time, and as a result of unprecedented scientific achievement.
We made a plea for equitable distribution of these vaccines because immunity against COVID-19 for all, in all countries around the world, is our best hope of putting an end to a global pandemic.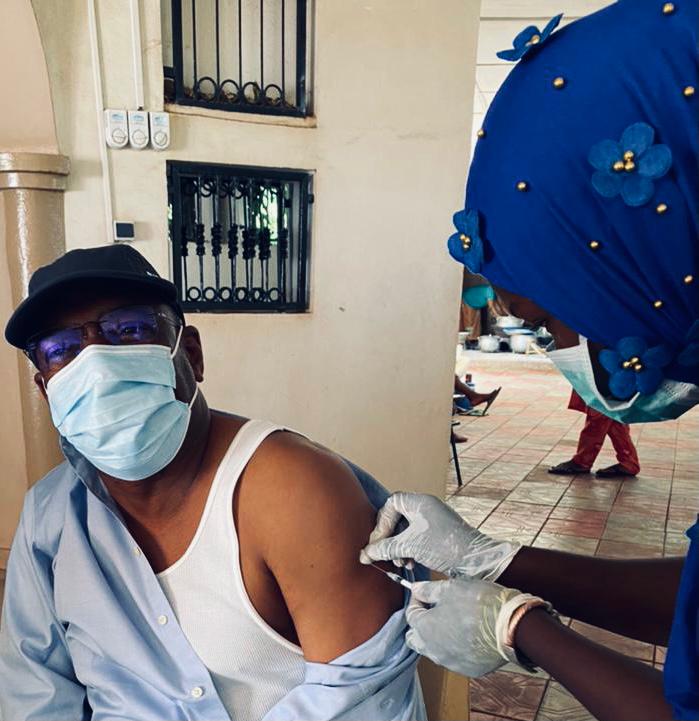 We at CVD-Mali firmly believe that the COVID-19 vaccines are an opportunity for the global community to demonstrate its commitment to poorer countries and to the ideal of health for all, regardless of nationality or economic status.
In this post, however, I want to set politics aside for the time being and give thanks for vaccination in general – that wondrous medical technology which has existed, in basic form at least, for almost as long as humans have been aware of the mechanisms of disease and infection.
Reducing mortality and the burden of disease
Modern vaccination techniques have saved innumerable lives and spared entire populations from the burden of diseases which, previously, led to suffering and death on an unimaginable scale.
I know, from extensive personal experience, how important these vaccines are … to the parents of children who receive them

Prof Samba Sow
In Mali, vaccination is a staple of healthcare for nearly all our communities – alongside the DTP vaccine (DTP3), we have the hepatitis B and Haemophilus influenzae type b (Hib) vaccines as well as numerous others. CVD-Mali has also been at the forefront of work to develop an effective vaccine against Ebola – the deadly disease which has wreaked such havoc on the African continent and whose resurgence is a constant threat to our health.
I know, from extensive personal experience, how important these vaccines are to families and, in particular, to the parents of children who receive them.
And this week, we herald the news of a potential vaccine which could have a truly profound and truly life-changing impact on the health of people in countries throughout Africa.
New hope in the fight against malaria
It was announced that a team from Oxford University, UK, alongside the Clinical Research Unit of Nanoro, Burkina Faso, has developed a candidate malaria vaccine with efficacy rates of 77%, observed over 12 months of follow up in a Phase IIb trial.
I cannot tell you what good news this could be for communities like my own, like the ones I see wherever I go in Mali.
Malaria has been a curse on community life for ever and a day. So often lethal in outcome and so terribly painful for its sufferers, this disease more than any other perhaps has contributed to the high mortality rates and low life expectancy encountered in so many African countries.
This vaccine showed a good safety profile and was well tolerated. What's more, the candidate vaccine promises to be available for large-scale manufacture at low cost.
In the context of political wrangling over Covid-19 vaccine stocks and distribution, what wonderful, encouraging news this is to have during World Immunization Week 2021.
I salute you, my dear Burkinabé and Oxford colleagues. If your vaccine comes to fruition, the world – and our vast African continent in particular – will owe you an incalculable debt of gratitude.
Routine vaccination is vital
Immunization saves millions of lives every year and is widely recognized as one of the world's most successful health interventions.
Yet, there are still nearly 20 million children in the world today who are not getting the vaccines they need, and many miss out on vital vaccines during adolescence, adulthood and on into old age.
During World Immunization Week 2021, CVD-Mali joins the calls for greater engagement with immunization globally, to promote the role of vaccination in improving the health and wellbeing of everyone, throughout the life cycle.
While the world focuses on critically important new vaccines to protect against COVID-19, there remains a need to ensure routine vaccinations are not missed.
Trust in vaccines is paramount
Many children have not been vaccinated during the global pandemic, leaving them at risk of serious diseases like measles and polio. Rapidly circulating misinformation around the topic of vaccination adds to this threat.
We need to maintain trust in vaccination as a public good that saves lives and protects health.
Investment and new research is enabling ground-breaking approaches to vaccine development, changing the science of immunization forever

Prof Samba Sow
For over 200 years, vaccines have protected us against diseases that threaten lives and inhibit our development. And while they are not a silver bullet, they will help us get back to a world where we can be together again.
The future is bright!
And all the while, vaccines technology continues to advance, bringing us closer to a world free from diseases like TB and cervical cancer, closer to an end to the suffering caused by childhood diseases like measles.
Investment and new research is enabling ground-breaking approaches to vaccine development, changing the science of immunization forever.
So let us celebrate World Immunization Week 2021 with a hymn of praise for vaccines!