Today, Mali joins the nations of Colombia and The Philippines in celebrating the official global launch of the Solidarity Trial Vaccines (STV), a large international randomised clinical study coordinated by the World Health Organization (WHO), together with national ministries of health, to rapidly test new promising COVID-19 vaccine candidates.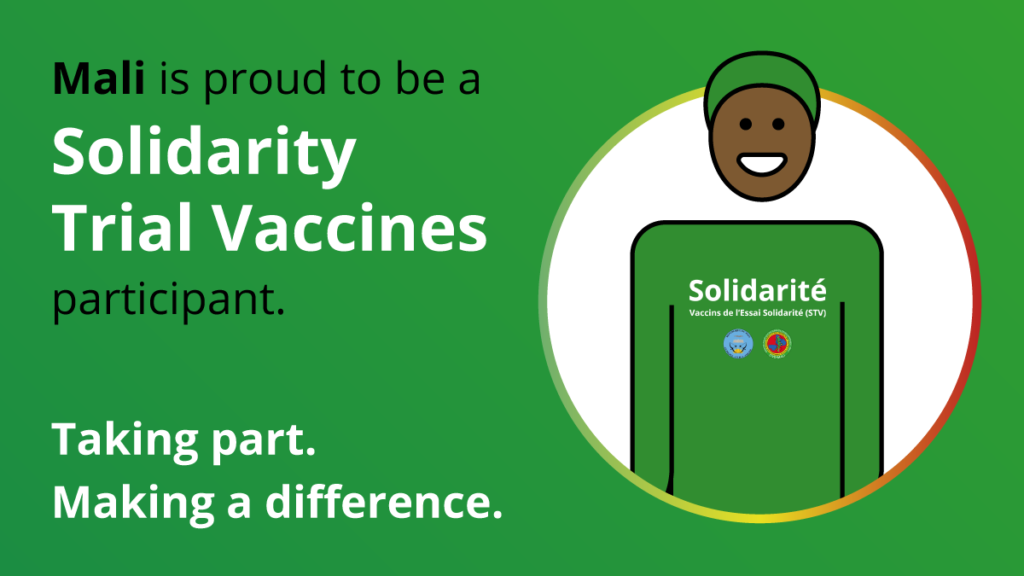 COVID-19 is one of the biggest health and economic threats the world has seen in decades. The rapid development of safe and effective COVID-19 vaccines is a remarkable scientific achievement, but many countries do not have access to these vaccines or do not have enough doses to protect their populations: the world needs more vaccines to protect everyone, wherever the live, from the virus and all its variants. The STV trial has a critical role to play in testing new vaccines for COVID-19.
All candidate vaccines in the trial have been carefully selected by leading international experts, after first trial phases showed their potential to be safe and effective. Initial results from the trial could be ready by early 2022, but the study will be ongoing as potential new vaccines are added as and when they pass the WHO's strict entry criteria.
In Mali, the STV trial is being coordinated by CVD-Mali in association with the Ministry of Health, and aims to include 40,000 participants throughout the country. Recruitment began in October at a number of trial sites in the Bamako region, and to date over 4,200 volunteers have enrolled.
"This is a very important trial for Mali, and for Africa" said Prof. Samba Sow, Director General of CVD-Mali, and the trial's Principal Investigator. "We are extremely proud to take part, as this trial will help shape history. The people of Mali will make a real difference in finding more safe and effective vaccines to help protect the whole world from COVID-19."