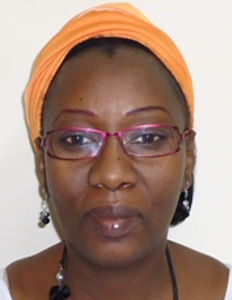 Ms Araba Maradou graduated in Business Administration from Central State University, Ohio. After training in the finance division at the Regional Office for Africa, she subsequently worked at UNDP Mali, for the PDEP-MEB-USAID Education Development Project and
served as accountant for the Tropical Medicine Research Center at the University of Tulane's Faculty of Medicine.
Since joining CVD-Mali in 2001, she has worked on every aspect of general accounting for the institution and was appointed Head of the Finance Department in 2015. Currently Head of Human Resources, Monitoring, Supervision-Evaluation and Communication, Araba oversees and evaluates all CVD-Mali's human resources requirements, monitors study quality, insurance and all internal audits of CVD-Mali's scientific protocols.
She is a recipient of the Award for Excellence and Commitment to Public Health in Mali.